or is everyone just busy snowmobiling??
I am going to tattle on a fellow club member for fun (and because he can take it and deserves it). Just over a week ago we were setting up the course for the Mt. Bailey Poker Run. There were four guys in my group plus me and my twelve year old neice. The president of our club was riding the club sled which is a two up and towing a sleigh with all our signs and stuff.
Because I didn't want to hold the group up and I was teaching my neice to ride, we would catch up with the guys and pass them as they put up signs and then they would leap frog us and on and on.
At one point, we stopped at Hamaker to take a break and wait for the guys to catch up. We started to dig the bathroom out (check out the pictures in another thread) but had to give up about half way because we were tired and only had a plastic shovel. The guys never showed up so we figured they must have gone on. Just as we were getting ready to leave the sno-park, here they come.
Apparently, going 40-50 miles per hour on a curvy trail towing a sleigh was not such a good idea. Our president managed to flip the sleigh and it had some minor damage which they had to fix to get going. We continued on our way and finished marking the course. No harm, no foul.
On Wednesday I learned that our "fearless leader" is not such a fast learner. When taking the course markers down the next afternoon, this is what occurred: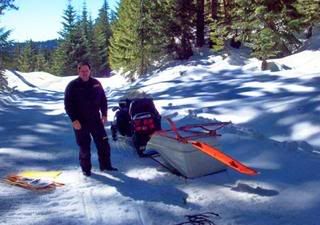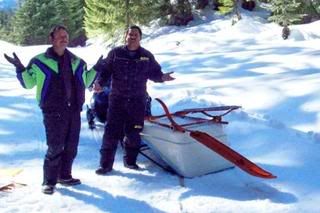 What's that old saying: Fool me once, shame on you. Fool me twice, shame on me. I think this is one that he won't live down for a while!!
Anyone know how to fix a sleigh!!!!!